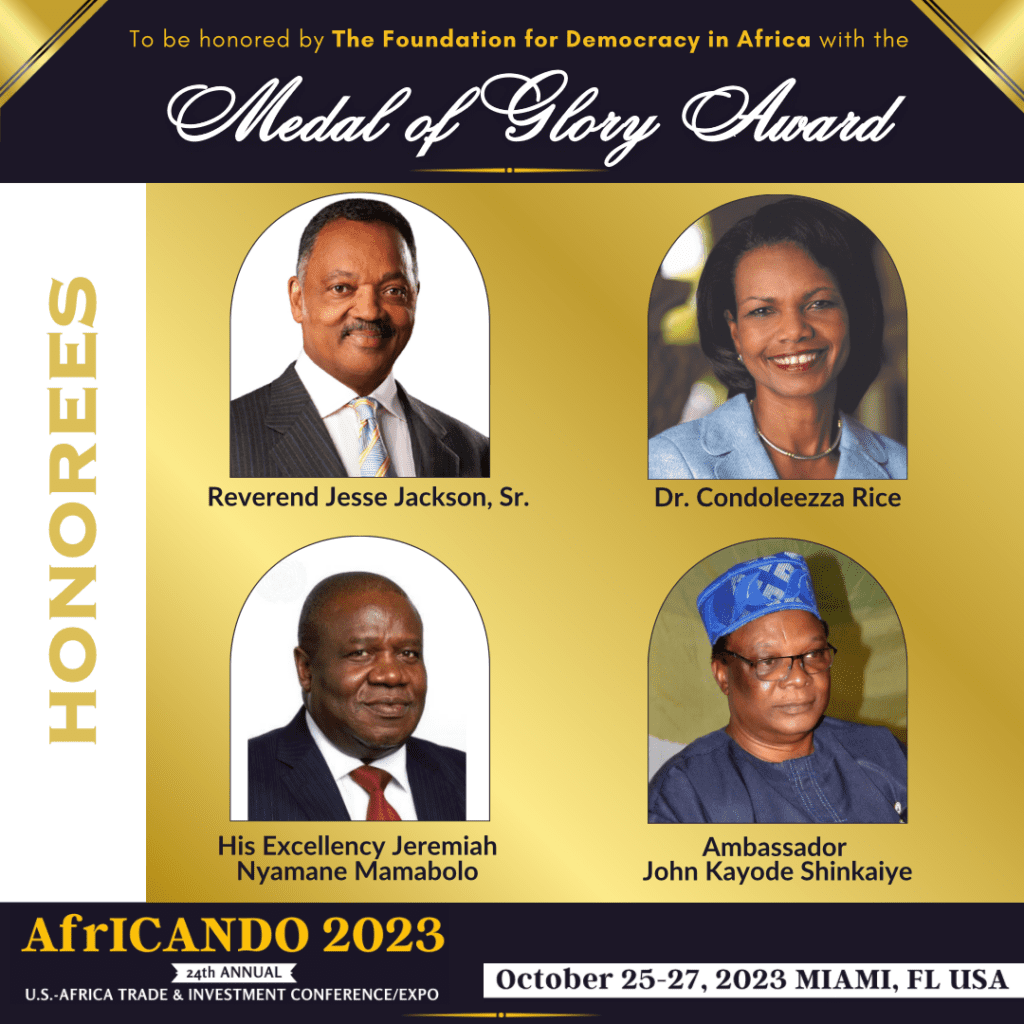 The Foundation for Democracy in Africa is proud to announce the recipients of its highest honor, who will be celebrated during the prestigious MOGA Dinner Gala at AfrICANDO 2023.
Reverend Jesse Jackson Sr.: Founder and Past President of the Rainbow PUSH Coalition.
Dr. Condoleezza Rice: Former National Security Advisor and Secretary of State of the United States under President George W. Bush.
His Excellency Jeremiah Nyamane Mamabolo: High Commissioner to the United Kingdom of Great Britain and Northern Ireland, representing the South African High Commission.
Ambassador John Kayode Shinkaiye: President of the Association of Retired Career Ambassadors of Nigeria and Chairman of JKS & Associates, Ltd.
The Medal of Glory Awards Gala Dinner promises an unforgettable evening on Friday, October 27, 2023, at 6:00 p.m. We invite you to join us at the DoubleTree by Hilton Hotel at Miami Airport Convention Center, South Ballroom, 711 NW 72nd Avenue, Miami, Florida.
Don't miss this extraordinary event celebrating these exceptional leaders. Tickets are available for purchase here: http://bit.ly/africando2023
For more information on our prestigious honorees:
Reverend Jesse Jackson Sr. https://democracy-africa.org/wp-content/uploads/2023/10/Press-Release-Reverend-Jesse-Jackson-to-Receive-MOGA-Award.pdf
Dr. Condoleezza Rice https://democracy-africa.org/wp-content/uploads/2023/10/Press-Release-Condoleezza-Rice-to-Receive-MOGA-AWARD.pdf
His Excellency Jeremiah Nyamane Mamabolo https://democracy-africa.org/wp-content/uploads/2023/10/Press-Release-Mamabolo-to-Receive-MOGA-Award.pdf
Ambassador John Kayode Shinkaiye https://democracy-africa.org/wp-content/uploads/2023/10/Press-Release-John-Kayode-Shinkaiye-to-Receive-MOGA-Award.pdf