2019MedalofGloryAwardtothePeopleandGovernmentofDemocraticReprublicofCongoreceivedbySenatorafricado422
BillTalbertMedalofGloryafricadopost
MISSION STATEMENT:
The Foundation for Democracy in Africa (FDA) is a development organization committed to promoting participatory democracy, economic growth and sustainable development throughout Africa. Founded in 1994, FDA is a 501c 3 not for profit, non-governmental, non-partisan institution headquartered in Washington, DC with offices in Miami, Florida, USA.
FDA's mission is to: (1) implement culturally sensitive programs designed to strengthen and enhance the fundamental principles of democracy, freedom and economic plurality throughout Africa, and (2) integrate emerging African democracies into the mainstream of the global economy, thus cultivating the pathway for peace and prosperity in Africa.
FDA carries out its mission by developing innovative and culturally sensitive strategies and programs that are designed to enhance human and institutional capacity, create opportunities that reduce poverty, foster democracy and good governance, and accelerate development in select sectors of Africa's economy. FDA also supports development through education, and by providing hands on technical assistance to existing and future leaders in civil society, government, and the private sector. We provide expert technical assistance to strengthen the rule of law, democracy and governance, elections, elections administration, and political processes through education and training.
In 2001, FDA was awarded a grant from the US Agency for International Development (USAID) entitled the West Africa Economic Support Program (WAESP) .This program provided training on US-Africa trade issues, as well as, the efficacy of public-private partnerships as a means of enhancing a country's ability to conduct trade under the African Growth and Opportunity Act (AGOA). The project included activities at the national level in Mali, Nigeria, Senegal and Benin and in four states in Nigeria. The West Africa Economic Support Program was highly successful and USAID extended FDA's grant for this program from three years to five years. WAESP was also one of the first projects funded by USAID to provide training and technical assistance under AGOA, and as a result of its delivery, the AGOA Civil Society Network was created.
21st ANNUAL U.S. – AFRICA TRADE & INVESTMENT CONFERENCE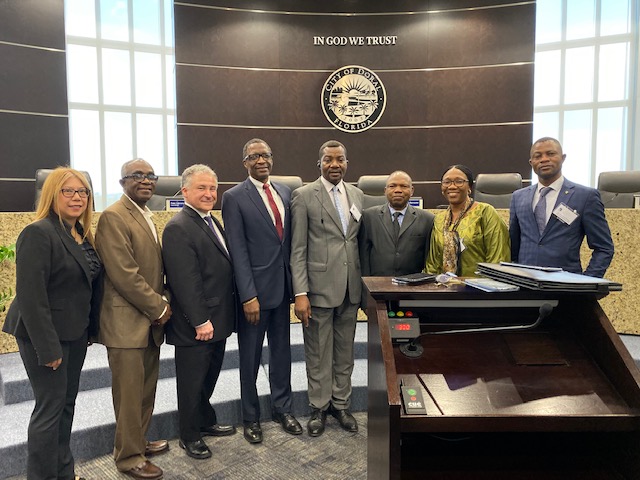 ---
AfriFLYER-07-19-22

---
AGOA CSO SPRING CONFERENCE
April 19, 2022
Embassy of the Republic of South Africa
3051 Massachusetts Avenue, NW Washington, DC 20008
Remarks and Presentations
Dr. Nicaise Ndembi, Chief Science Advisor Africa CDC
Prof. Petro Terblance, Managing Director, Afrigen Biologics & Vaccines, South Africa
Dr. Oyewale Tomori, Chairman, Biovaccines Nigeria Limited
Chanda Mongo, Socio-Economic Consultant/Farmer, Zambia
Dr. Nicholas Panasik, Associate  Professor of Biology, Claflin University
FDA Membership affords you access to a network of development professionals focused on Africa, discounts on participation in FDA conferences and other FDA programs as well as access to our current and past reports on issues around development in Africa. There are a number of levels of membership that allow you to participate in our programs and projects which are designed to strengthen and enhance democracy, freedom and economic plurality through the continent of Africa.
Join Today!
(read more)
FDA's work developing and delivering culturally - based programs designed to strengthen and enhance democracy, and economic freedom in select countries in Africa requires considerable financial and human support.
Your donation will make a difference and will greatly assist us in advancing and implementing our various initiatives, and ultimately, make a difference in the lives of the less fortunate and marginalized people on the African continent, particularly, women and youth. In addition to donating directly, there are a number of ways to support FDA programming through donating American Express Points, making tax-deductible donations of goods and many more.
(read more)
Top News on Africa