2019MedalofGloryAwardtothePeopleandGovernmentofDemocraticReprublicofCongoreceivedbySenatorafricado422
BillTalbertMedalofGloryafricadopost
MISSION STATEMENT:
The Foundation for Democracy in Africa (FDA) is a development organization committed to promoting participatory democracy, economic growth and sustainable development throughout Africa.  Founded in 1994, FDA is a 501c 3 not for profit, non-governmental, non-partisan institution headquartered in Washington, DC with offices in Miami, Florida, USA.
FDA's mission is to: (1) implement culturally sensitive programs designed to strengthen and enhance the fundamental principles of democracy, freedom and economic plurality throughout Africa, and (2) integrate emerging African democracies into the mainstream of the global economy, thus cultivating the pathway for peace and prosperity in Africa.
FDA carries out its mission by developing innovative and culturally sensitive strategies and programs that are designed to enhance human and institutional capacity, create opportunities that reduce poverty, foster democracy and good governance, and accelerate development in select sectors of Africa's economy. FDA also supports development through education, and by providing hands on technical assistance to existing and future leaders in civil society, government, and the private sector. We provide expert technical assistance to strengthen the rule of law, democracy and governance, elections, elections administration, and political processes through education and training.
In 2001, FDA was awarded a grant from the US Agency for International Development (USAID)  entitled the West Africa Economic Support Program (WAESP) .This  program provided training on US-Africa trade issues, as well as, the efficacy of public-private partnerships as a means of enhancing a country's ability to conduct trade under the African Growth and Opportunity Act (AGOA).  The project included activities at the national level in Mali, Nigeria, Senegal and Benin and in four states in Nigeria. The West Africa Economic Support Program was highly successful and USAID extended FDA's grant for this program from three years to five years. WAESP was also one of the first projects funded by USAID to provide training and technical assistance under AGOA, and as a result of its delivery, the AGOA Civil Society Network was created.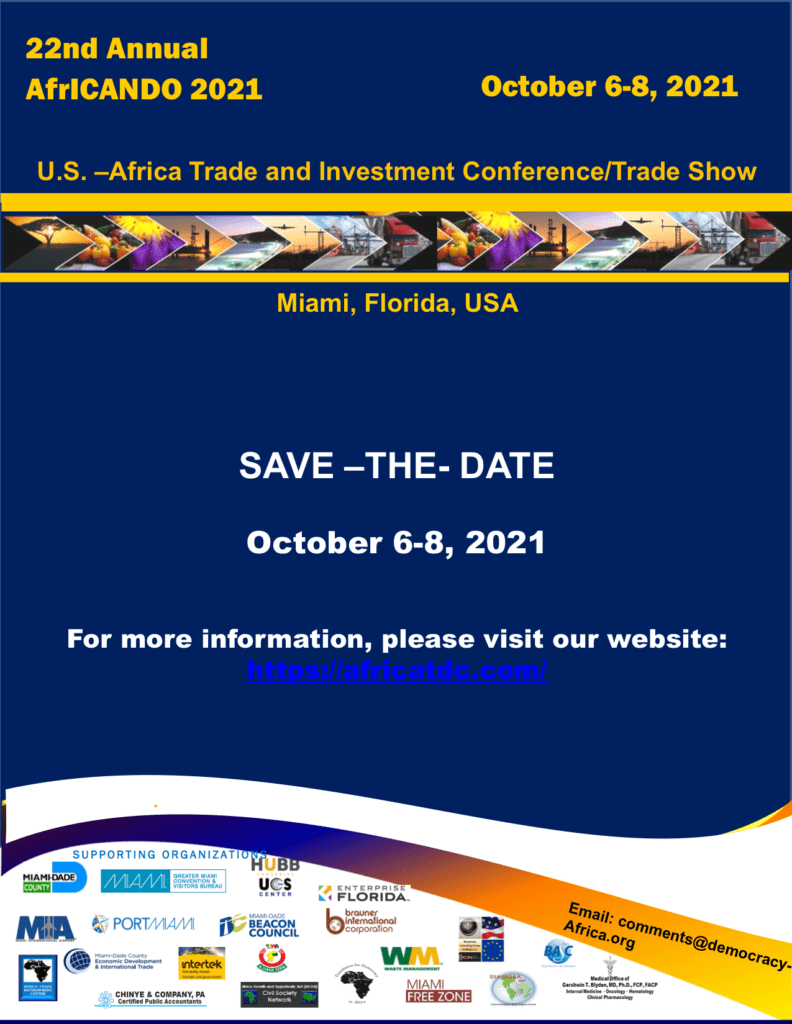 The Institute for Democracy in Africa (IDA), conducted political management training for Parliamentarian members of the National Assembly of the Democratic Republic of Congo from October 10 -17, 2019, in Miami, Florida, USA. IDA's Political Management Certificate Program (PMCP) is designed for officials who manage party structures, professionals who manage political campaigns, and politicians who run for office. [CLICK TO VIEW FULL PROGRAM]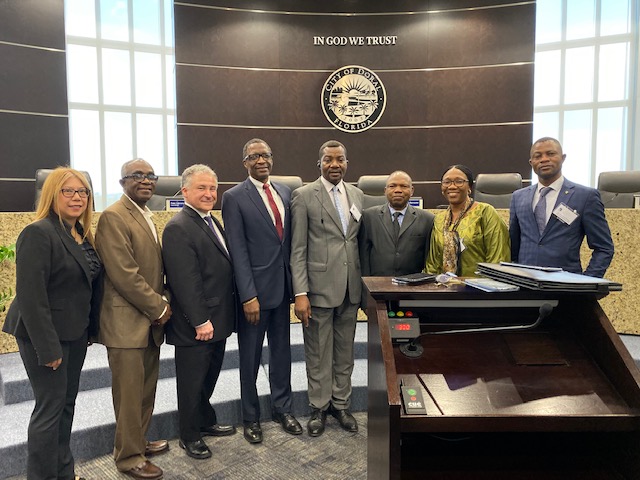 AfrICANDO 2019
21st ANNUAL U.S. - AFRICA TRADE & INVESTMENT CONFERENCE
OPENING SESSION 21st ANNUAL U.S.-AFRICA TRADE &
INVESTMENT CONFERENCE
CELEBRATING ANOTHER SUCCESSFUL AFRICANDO CONFERENCE!!​
*View photos from the Expo, Reception/awards gala & Fashion Show*
testimony in support of AGOA Eligibility for the democratic Republic of Congo
by Fred Oladeinde,
Washington, DC — Good morning Chairman Treat, and members of the implementation Subcommittee.
I come before this honorable committee, today, representing members of the AGOA Civil Society Organization Network in the United States and across sub-Saharan Africa, including, the 39 currently AGOA eligible countries, to testify in support of the petitions of the people and the Government of the Democratic Republic of Congo (DRC) to become a beneficiary sub- Saharan African country after having been suspended by the President of the United States pursuant to section 506 A (a) (3) of the Trade Act of 1974 on January 1, 2011.
[CLICK HERE TO VIEW FULL TESTIMONY]
Testimony in Support of the Petition for
2020 Eligibility of The Democratic Republic of Congo (DRC)As a Beneficiary Sub-Saharan African Country
For the Purpose of Section 506A of the Trade Act of 1974 
USTR_Testimony_AGOA_Eligibility_for_DRC_2020

Plea documents for the democratic republic of congo's reintegration into AGOA
DEMOCRATIC REPUBLIC OF CONGO'S PetiTION for 2020 Annual AGOA review
Congo DRC Petition for AGOA annual cycle Review

Call letter to president trump from civil society of DRC
Letter to President Trump AGOA Call

The Trump Administration's
New Africa StrategyRemarks by National Security Advisor Ambassador John R. Bolton.
As delivered on December 13, 2018.
Heritage Foundation, Washington, D.C.
This strategy is the result of an intensive interagency process, and reflects the core tenets of President Trump's foreign policy doctrine. Importantly, the strategy remainstrue to his central campaign promise to put the interests of the American People first, both at home and abroad.
Under our new approach, every decision we make, every policy we pursue, and every dollar of aid we spend will further U.S. priorities in the region.
In particular, the strategy addresses three core U.S.interests on the continent: READ MORE
---
Intern with FDA!
FDA needs volunteers to work on programs, assist with fundraising  and to provide  general office support. To apply for available positions, call 202.331.1333 or send your resume and cover letter to: comments@democracy-africa.org
Over the past 25 years, The Foundation for Democracy in Africa has carried out a number of programs geared towards promoting participatory democracy, sustainable development and economic growth throughout Africa.
Ongoing programs include FDA's Institute for Democracy in Africa, the Africa Growth and Opportunity Act (AGOA) Civil Society Network, FDA's annual AfrICANDO conference as well as the biannual US-Africa Air Transportation Summit among others.
(read more)
FDA Membership affords you access to a network of development professionals focused on Africa, discounts on participation in FDA conferences and other FDA programs as well as access to our current and past reports on issues around development in Africa.
There are a number of levels of membership that allow you to participate in our programs and projects which are designed to strengthen and enhance democracy, freedom and economic plurality through the continent of Africa.
Join Today!
(read more)
FDA's work developing and delivering culturally - based programs designed to strengthen and enhance democracy, and economic freedom in select countries in Africa requires considerable financial and human support.
Your donation will make a difference and will greatly assist us in advancing and implementing our various initiatives, and ultimately, make a difference in the lives of the less fortunate and marginalized people on the African continent, particularly, women and youth.
In addition to donating directly, there are a number of ways to support FDA programming through donating American Express Points, making tax-deductible donations of goods and many more.
(read more)
Top News on Africa