A bi-annual high – level meeting organized by The Foundation for Democracy in Africa (FDA) and hosted by Miami International Airport (MIA). The purpose of the Summit is to develop direct air service between the US and Africa. During the inaugural event which was held in November of 2005, top government and air transportation officials from Africa and the United States gathered in Miami, Florida for a 2 -day Summit to identify key barriers to the development of direct air service between the two markets. 
Since its inception in 2005, the US – Africa Air Transportation Summit has focused on identifying the barriers and solutions to air service growth between the U.S. and Africa.  A number of barriers have been examined, including, but not limited to: aviation and airport infrastructure; technology; financing; policy; safety and security; air navigational facilities; bilateral agreements; air service demand; the limited presence of U.S. carriers in the U.S.-Africa market; the lack of organized promotion of African trade and tourism; the negative perception of the African market among U.S. air carriers and the American air traveler; and facilitation challenges, including visa and immigration controls.
As of 2013, direct scheduled passenger flights between the U.S. and Africa have increased from 23 flights weekly to approximately 36; this represents an increase of more than 50 percent. Equally important, is the fact that all African airlines in the market increased their scheduled passenger flights and the market attracted major U.S. carriers. However, substantial work still needs to be done in growing air service, tourism and trade between the US and the various regions of Africa; improving competitiveness of African products in United States markets under the Africa Growth and Opportunity Act (AGOA); and expanding markets in Africa for U.S. manufacturers and exporters.
  It's Official Miami is Now the Gateway to Africa!!!    
On August 29, Ethiopian Airlines (ET) launched the first of two weekly freighter flights between the Ethiopian capital of Addis Ababa and Miami, creating the first-ever cargo-only route between the African continent and Miami International Airport. The scheduled flights will operate on a route that includes intermediate stops in Spain, Colombia and Belgium on inbound and outbound services. All flights will utilize B777-200LRF freighter aircraft.

Founded in 1945, Ethiopian Airlines is currently the largest airline group and largest cargo operator in Africa, serving more than 92 international destinations across five continents. In 2017, Ethiopian won the SKYTRAX World Airline Award for Best Airline in Africa. Ethiopian also received the African Cargo Airline of the Year award during the 2017 Air Cargo Africa Conference, based on votes by worldwide readers of STAT Trade Times. (read more)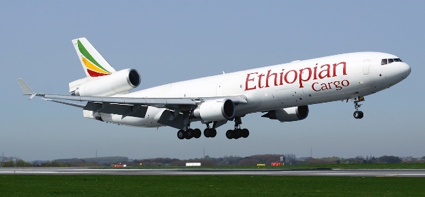 Moroccan national carrier Royal Air Maroc (RAM) has also announced  that it will launch the first-ever Miami-Casablanca route on April 3, 2019, giving Miami International Airport its first passenger flights to Africa since the year 2000 and Florida's only nonstop service to the continent. (Read more) 

Since 1997, FDA has been advocating for Miami – Dade to be become the Gateway to Africa, and we have always believed that Africa CAN DO – these historic developments make it official Miami, long the Gateway to the Americas, is now also the Gateway to Africa !!! 
Miami-Dade County lays Plans for African Air Trade Routes
Miami-Dade is working to launch air and trade links to Africa in the same way it nurtured relationships with Latin America. Commissioner Dennis Moss asked county stafffor a study to examine the possibility of a gateway between Miami-Dade and countries in western and southern Africa. "We in the US have been hesitant to make that move, but Africa has tremendouspotential," he said."Right now the Chinese are everywhere in Africa, and it's because they realize the opportunities."The goal is to make Miami-Dade a center for business and travel between the US and Africa by creating airline routes and strengthening relationships between PortMiami and African seaports.