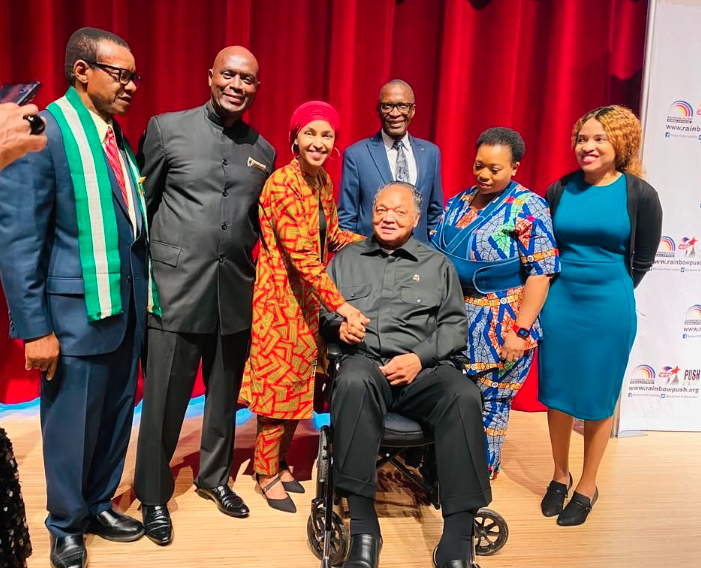 Our President, Mr. Fred Oladeinde, joined the Jackson Family, VP Kamala Harris, and leaders from across the Globe at the 2023 Rainbow PUSH Coalition Annual Convention. The convention theme focused on The Perilous Journey from Freedom to Equality, & honored Rev. Jesse L. Jackson, Sr., the Founder & President of Rainbow PUSH Coalition, on his retirement from the helm of one of the most effective & transformational civil rights organizations in the U.S.
During the celebration of Rev. Jackson's retirement at the Apostolic Church of God, VP Kamala Harris highlighted some of the selfless sacrifices & contributions of the renowned civil rights leader toward making America a more perfect union by fighting for freedom & equality for ALL through the work of the Rainbow PUSH Coalition. VP Harris also congratulated Rev. Frederick Haynes on his appointment as the new leader of the Rainbow PUSH Coalition.
Mr. Oladeinde participated in the U.S.-Africa Summit: Expectations & Benefits to Africa & the Diaspora panel during the International Forum w/Opening Remarks by Congresswoman Ilhan Omar, Minnesota. Olivier Kamanzi, President & CEO of the Africa Global Chamber of Commerce, moderated the panel, & other distinguished panelists included Honorable Nomusi Dube-Ncube, Premier of Kwazulu-Natal Province, The Republic of South Africa, & Ms. Efe Ukala, Founder & CEO of Impacther. During my remarks, he called upon Reverend Jackson, the Rainbow Push Coalition, & all convention attendees to support the AGOA Civil Society Organization (CSO) Network Secretariat's advocacy work. Their support was requested in advocating for a 10-year extension of AGOA Benefits & the necessary enhancements, including tax incentives for the AGOA CSO Special Purpose Investment Fund for Africa before the 118th Congress and the Biden-Harris Administration.
We thank Reverend Jesse Jackson, Sr., for his lifelong commitment to civil & human rights, the advancement of democracy globally, & for his contributions as the Special Envoy on Democracy & Human Rights in Africa during the Clinton administration & efforts towards the passage of AGOA by Congress in 2000.
We congratulate Rev. Haynes on his appointment & look forward to working w/him & the Rainbow PUSH Coalition.