AfrICANDO0223Highlights-2
AfrICANDO0223Highlights_AbdoulayeDieye
AfrICANDO2023HighlightsConnieKinnard
2019MedalofGloryAwardtothePeopleandGovernmentofDemocraticReprublicofCongoreceivedbySenatorafricado422
BillTalbertMedalofGloryafricadopost
---
MISSION STATEMENT
The Foundation for Democracy in Africa (FDA) is a development organization committed to promoting participatory democracy, economic growth and sustainable development throughout Africa. Founded in 1994, FDA is a 501c 3 not for profit, non-governmental, non-partisan institution headquartered in Washington, DC with offices in Miami, Florida, USA.
FDA's mission is to: (1) implement culturally sensitive programs designed to strengthen and enhance the fundamental principles of democracy, freedom and economic plurality throughout Africa, and (2) integrate emerging African democracies into the mainstream of the global economy, thus cultivating the pathway for peace and prosperity in Africa.
FDA carries out its mission by developing innovative and culturally sensitive strategies and programs that are designed to enhance human and institutional capacity, create opportunities that reduce poverty, foster democracy and good governance, and accelerate development in select sectors of Africa's economy. FDA also supports development through education, and by providing hands on technical assistance to existing and future leaders in civil society, government, and the private sector. We provide expert technical assistance to strengthen the rule of law, democracy and governance, elections, elections administration, and political processes through education and training.
In 2001, FDA was awarded a grant from the US Agency for International Development (USAID) entitled the West Africa Economic Support Program (WAESP). This program provided training on US-Africa trade issues, as well as, the efficacy of public-private partnerships as a means of enhancing a country's ability to conduct trade under the African Growth and Opportunity Act (AGOA). The project included activities at the national level in Mali, Nigeria, Senegal and Benin and in four states in Nigeria. The West Africa Economic Support Program was highly successful and USAID extended FDA's grant for this program from three years to five years. WAESP was also one of the first projects funded by USAID to provide training and technical assistance under AGOA, and as a result of its delivery, the AGOA Civil Society Network was created.
---
Thank You to all Participants, Speakers, Attendees and Exhibitors at our 24TH ANNUAL US-AFRICA TRADE & INVESTMENT CONFERENCE/EXPO – AFRICANDO 2023!
AfrICANDO 2023, our 24th Annual US-Africa Trade & Investment Conference and Expo as held on-site at the DoubleTree by Hilton Hotel Miami Airport & Convention Center (MACC), 711 NW 72nd Avenue, Miami, Florida, USA, and virtually.
THEME: The Diaspora: Accelerating U.S.-Africa Trade, Investment, and Technological Innovation
The following topics were discussed:
Trade and Investment ● Health ● Infrastructure ● Technology ● Tourism
Attendees acquired knowledge to:
Learn how to make MONEY using the Benefits of the AGOA
Tap Into the over $20 Billion of Trade in Goods under AGOA
Identify New Markets to Sell your Products and Technologies
Increase Your Sales by Accessing One of the World's Fastest Growing Markets -Africa
Establish Strategic Partnerships and Network with High-Level Contacts from the U.S., Africa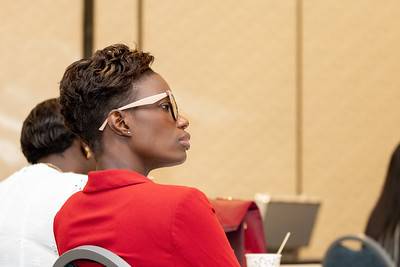 Fred Oladeinde, President, FDA
Abdoulaye Diagne, CEO/Director General, AIBD
PRESENTATIONS
Fred Oladeinde, President, The Foundation for Democracy in Africa (FDA) and Chairman, AGOA Civil Society Network- Opening Remarks
Abdoulaye Dièye, Director General of AIBD SA and President of the Siggi Jotna movement- AfrICANDO Opening Remarks
Deputy Director-General Angela Ellard, World Trade Organization, Opening Remarks
Ambassador John Shinkaiye, Career Diplomat, National President of the Association of Retired Career Ambassadors of Nigeria (ARCAN), Contributions to the African Diaspora Engagement
Dr. Nicholas Panasik, Jr., Associate Professor, Claflin University Presentation
 Dave Peterson, Senior Director, Africa Program, National Endowment for Democracy Presentation
His Excellency Jeremiah Nyamane Mamabolo, High Commissioner to the United Kingdom of Great Britain and Northern Ireland, MOGA Award Acceptance Statement
Ambassador John Kayode Shinkaiye, Career Diplomat, National President of the Association of Retired Career Ambassadors of Nigeria (ARCAN), MOGA Award Acceptance Statement
THE SPEAKERS
SPONSORSHIP PACKAGE INFORMATION
Conference-At-A-Glance
For more information, check out our AfrICANDO page.
---
READ THE USITC AGOA REPORT
CLICK THE LINK BELOW
8TH ANNUAL SPRING CONFERENCE – THANK YOU!
THANK YOU TO SPEAKERS, MODERATORS, PANELISTS, PARTICIPANTS, & ATTENDEES FOR MAKING
THE 8TH ANNUAL AGOA CSO NETWORK SPRING CONFERENCE A SUCCESS!
The 8th Annual AGOA CSO Network Spring Conference took place on April 13, 2023 at The Elliot School of International Affairs, George Washington University, University Student Center, 800 21st Street, NW, 3rd Floor in Washington, DC from 8:30 am – 3:30 pm and online.
The theme for this year's Spring Conference was Extending AGOA to 2035: Using Trade toStrengthen U.S.-Africa Strategic Alliances.
The conference addressed the following topics:
Extending AGOA to 2035
AGOA Eligibility and Inclusive Economic Growth
Expanding Number of AGOA-Eligible Countries
Expansion of U.S. Africa Trade and Economic Cooperation
Presentations
Fred Oladeinde, Chairman, the AGOA CSO Network and President, The Foundation for Democracy in Africa (FDA) – Opening Remarks
H.E. Albert M. Muchanga, Commissioner for Trade and Industry African Union Commission (AUC)
Rosa Whitaker, President and CEO , The Witaker Group – Remarks
H.E. Hilda Suka-Mafudze, Ambassador, African Union (AU) Mission to the USA – Remarks on Extending AGOA to 2035
Chanda Mongo, Chairman, AGOA CSO Extension Campaign -Session Report on Extending AGOA to 2035
PREVIOUS EVENTS
AGOA ROUNTABLE DISCUSSION SUMMARY REPORT
Petition for the Extension of AGOA
The African Growth and Opportunity Act (AGOA) was signed into law in 2000 and has been the foundation of U.S. economic policy and business-related engagement with the countries of Sub-Saharan Africa (SSA) since its enactment. AGOA provides eligible sub-Saharan African countries with duty-free access to the U.S. market for over 1,800 products, in addition to the more than 5,000 products that are eligible for duty-free entry under the Generalized System of Preferences(GSP) program.
In 2002, 2004, and 2006, Congress passed, and the executive branch implemented legislative enhancements of AGOA. And in 2015, Congress passed the Trade Preferences Extension Act (TPEA), updating and extending the program to 2025.
COVID-19's economic impact presents a threat to US-Africa trade and investment, U.S. – Africa strategic alliances, and gains made over the last two decades using the benefits of AGOA.
AGOA has been a long-term commitment with broad bipartisan support; however, it expires in 2025. As a result, we launched the advocacy campaign for the 10-year extension of AGOA during our Roundtable Discussion on the Future of AGOA on December 13, 2022, in Washington, DC, USA, and virtually on the margins of the U.S.-Africa Leaders' Summit. The campaign advocating for a ten-year extension of AGOA benefits aligns with African Union's Agenda 2063.
We appreciate your interest in AGOA! We invite you to join our petition to the 118th Congress of the United States and the Biden-Harris Administration for the extension of AGOA by signing our request to extend AGOA to 2035.
---
AfrICANDO 2022
Our 23rd Annual U.S. – Africa Trade and Investment Conference/Expo – AfrICANDO 2022, took place October 10-13, 2022, in Miami, FL 33126, USA, and virtually.
The topics discussed during AfrICANDO 2022 included U.S. -Africa Trade and Investment; Health Security: Health is Wealth; Climate and Food Security; Tourism; the Miami Gateway Initiative and Pharma Hub; and, Export and Development Finance. The event will include Seminars, Exhibits, B2B Matchmaking, and a Gala Awards Dinner.
Presentations
Fred Oladeinde, President, The Foundation for Democracy in Africa (FDA) – Opening Remarks
Richard de Villiers, Chief of Staff, PortMiami
Jimmy Nares, Section Chief, MIA Marketing Division
Ilona Vega Jaramillo, VP International Economic Development, Miami-Dade Beacon Council
James Murley, Chief Resilience Officer, Miami -Dade County Office of Resilience
Chanda Mongo, Socio Economic Consultant/Farmer, and Advisory Board Member, AGOA CSO Network, Zambia
Daniel Cardona, Vice President, Florida Export Finance Corporation (FEFC)
Cynthia Jasso-Rotunno, Director of Public Engagement, U.S. Trade Development Agency (USTDA)
Dr. Victor Oladokun, Senior Advisor to the President (Communication), African Development Bank Group, (AfDB)
Fred Oladeinde, President, FDA – Closing Remarks
FDA MEMBERSHIP
FDA Membership affords you access to a network of development professionals focused on Africa, discounts on participation in FDA conferences and other FDA programs as well as access to our current and past reports on issues around development in Africa. There are a number of levels of membership that allow you to participate in our programs and projects which are designed to strengthen and enhance democracy, freedom and economic plurality through the continent of Africa.
Join Today!
(read more)
DONATE
Your donation will make a difference and will greatly assist us in advancing and implementing our various initiatives, and ultimately, make a difference in the lives of the less fortunate and marginalized people on the African continent, particularly, women and youth. In addition to donating directly, there are a number of ways to support FDA programming through donating American Express Points, making tax-deductible donations of goods and many more.
(read more)
TOP NEWS ON AFRICA
U-17 World Cup: Mali ends third, Germany lifts first trophy

by

editorial@africanews.com (Rédaction Africanews)

on December 2, 2023 at 10:48 pm

The Under-17 FIFA World Cup 2023 came to an end Saturday (Dec. 2nd) as Germany beat France 4-3 on penalties after the action ended 2-2 at full time. On Friday, Mali beat Argentina 3-0 to win bronze.

2023 Biennale of Luanda focuses on education, peace in Africa

by

editorial@africanews.com (Rédaction Africanews)

on December 2, 2023 at 5:07 pm

The Biennale of Luanda –is organized by the Government of Angola, the UNESCO and the AU. This year's main theme was "Education, culture of peace and African citizenship as tools for the sustainable development of the continent".

Burkina, Niger to quit the anti-jihadist force G5 Sahel

by

editorial@africanews.com (Rédaction Africanews)

on December 2, 2023 at 4:41 pm

The military leaders of Burkina Faso and Niger said Saturday they would quit the G5 anti-jihadist force in Africa's Sahel region, the latest blow to the fight against insurgents in one of the world's most troubled zones
CONTACT US
The Foundation for Democracy in Africa (Miami Office)
333 SE 2nd Avenue, Suite 2000
Miami, FL 33131
Phone: (305) 416-9201
comments@democracy-africa.org